The BEST Homemade Bread Recipe – The Most Delicious, Most Fluffy Loaf Of Homemade White Bread! Tastes So Much Better Than Store Bought And Is Easy To Make Too.
I have to confess, I'm kind of a bread addict. I love any kind of bread, from tender and flaky biscuits, to french breads, to pillowy soft rolls. My very favorite kind of bread, though, is a fluffy white loaf of homemade bread.
Years ago, I taught myself to bake perfect bread, and it has totally changed my life! I make most of my family's bread these days, and I love that it not only tastes better than store-bought, it's also super easy and makes me feel accomplished. As long as you plan ahead a little for rise times, it's really not very much work, and well worth the effort.
I have to confess, though, I was terrified to try making bread for the first time all those years ago. I had several failures in a row, and was convinced that I would never master even a basic loaf. Have no fear, though! I'm here to share all my best bread-making tips with you and show you that this is an easy bread recipe.
It's really a simple process, once you get a feel for it, and in no time, you'll be a bread baking expert too!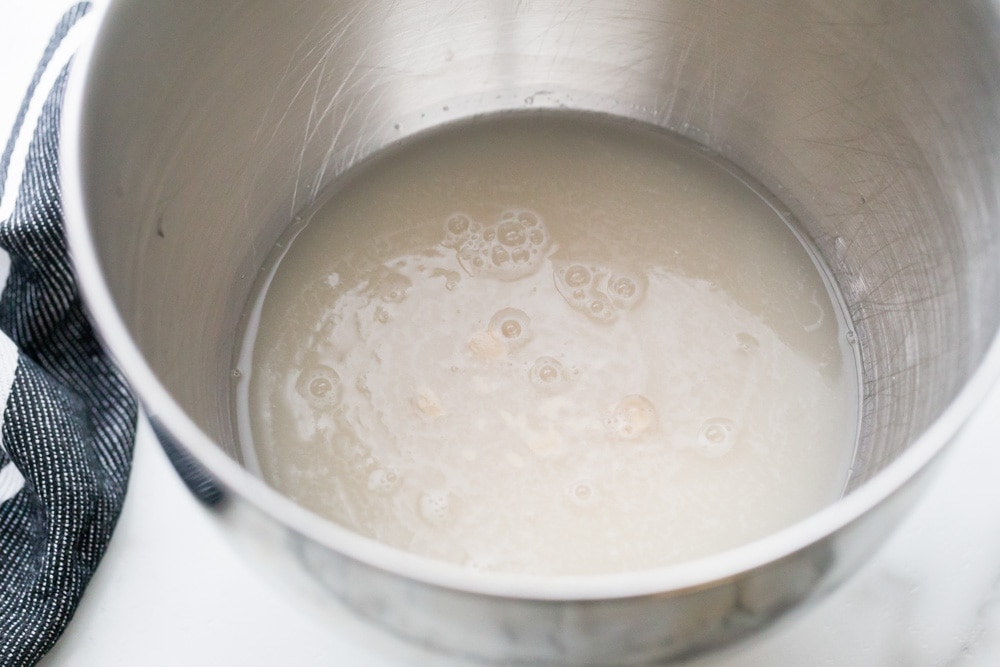 HOW TO MAKE HOMEMADE BREAD
My first tip: start with good yeast! If your yeast is old or dead, your bread is going nowhere fast. I store my yeast in the fridge at all times, and that helps to keep it fresh. Dissolve the yeast in warm water with a little pinch of sugar. If it isn't bubbly and foamy within about ten minutes, ditch it and start again with fresh yeast.
Once your yeast is bubbly, you'll add just a few more basic ingredients to form the dough. I've found over time that my favorite bread recipes are those with the simplest ingredients!
The key at this point is to not add too much flour. It definitely helps to add the flour a little at a time. I like to add a little over half of the flour at first, then add the remaining flour 1/2 cup at a time, until the dough reaches the right consistency. It's easy to add more flour, but pretty much impossible to correct when you've added too much. You'll want a dough that's smooth and slightly tacky to the touch, but not overly sticky, and that can be easily rolled into a ball.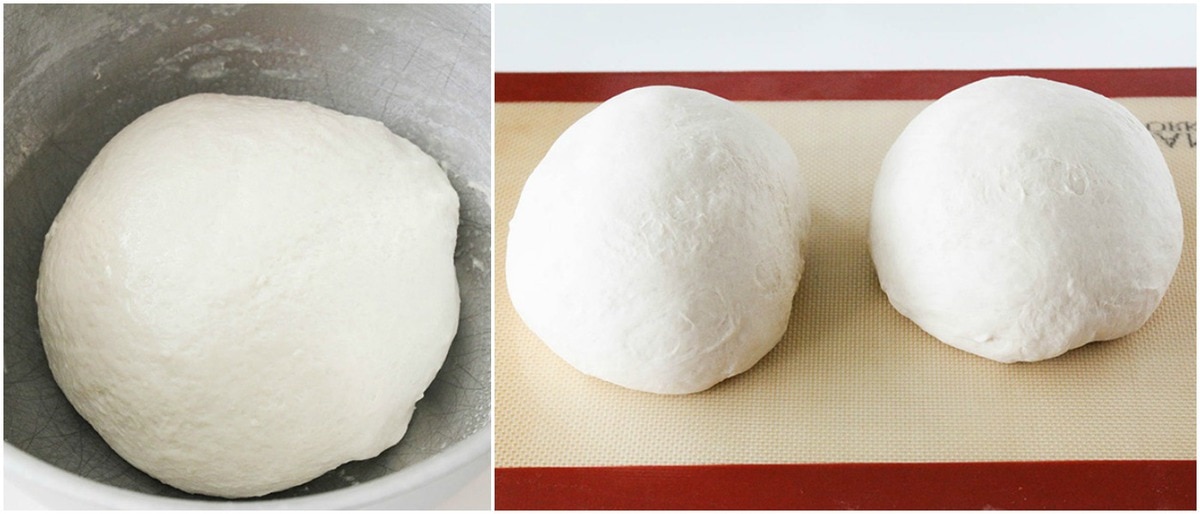 CONTINUED…
You'll let the dough rise for an hour, then divide it into two equal size balls. I'm neurotic, so I always use a kitchen scale to make sure they're the same size, but you can definitely just eyeball it!
Roll each ball of dough out into a long rectangle about eight inches wide, then roll up into a cylinder starting at the short edge. I've found that rolling the dough up this way really helps with the texture and shape of the finished loaves.
Place the loaves seam side down into two bread pans, cover with plastic wrap, and let rise again for about an hour.
The dough is ready to bake when it has puffed up over the side of the pan about 1/2 – 1 inch.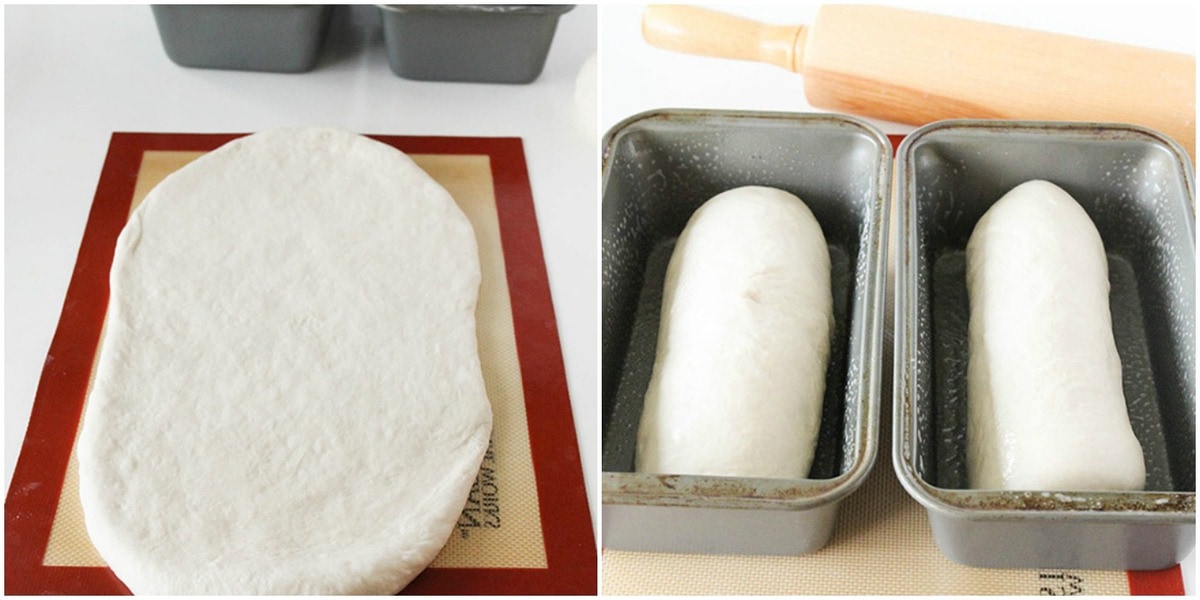 HOW LONG TO BAKE BREAD?
Bake 30-35 minutes, or until the loaves are golden brown and sound hollow when tapped. I like to brush my loaves with a little melted butter after baking, but it's totally optional. I like that it helps to soften the top crust just a little, and a little extra butter is always a good thing, right?
Letting the bread cool before slicing makes it easier to get smooth, uniform slices (although I'm often so hungry for warm bread that I eat it hot anyway).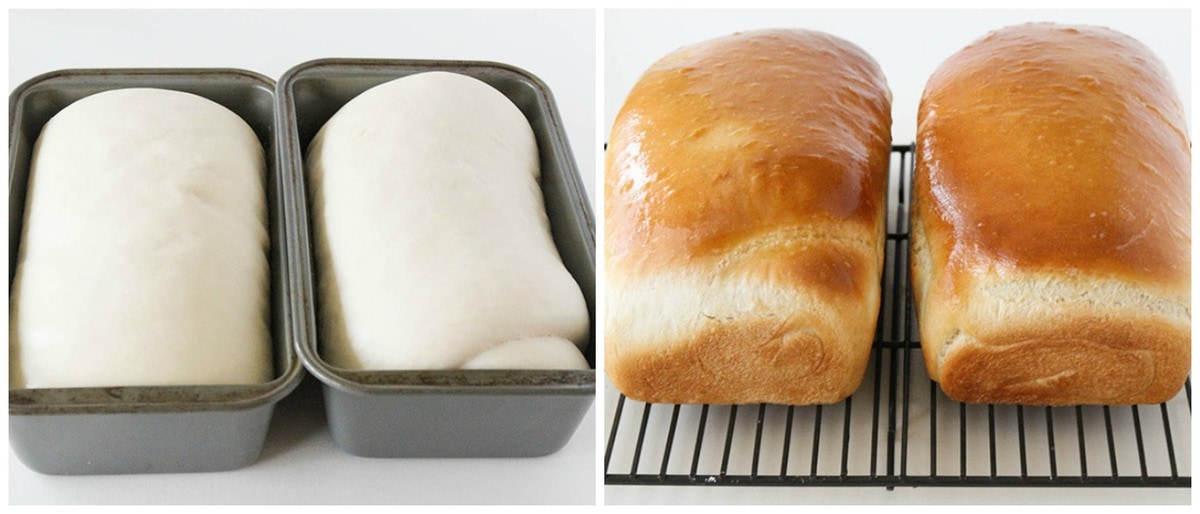 HOW TO STORE + FREEZE HOMEMADE BREAD
How to STORE homemade bread? Let the bread cool completely and place in Ziploc bag or wrap in foil. The homemade bread should last 2 to 3 days stored at room temp.
How to FREEZE homemade bread? If you're wanting to save the bread for later, it freezes beautifully! I like to slice the loaf all the way through, place it in a plastic bread bag, and freeze it as soon as it has cooled completely.
To THAW it, just pop the loaf in the fridge for a few hours. I love that I can pull out a few slices as needed for toast, or pull out a full loaf for soup night or when I'm making sandwiches for school lunches.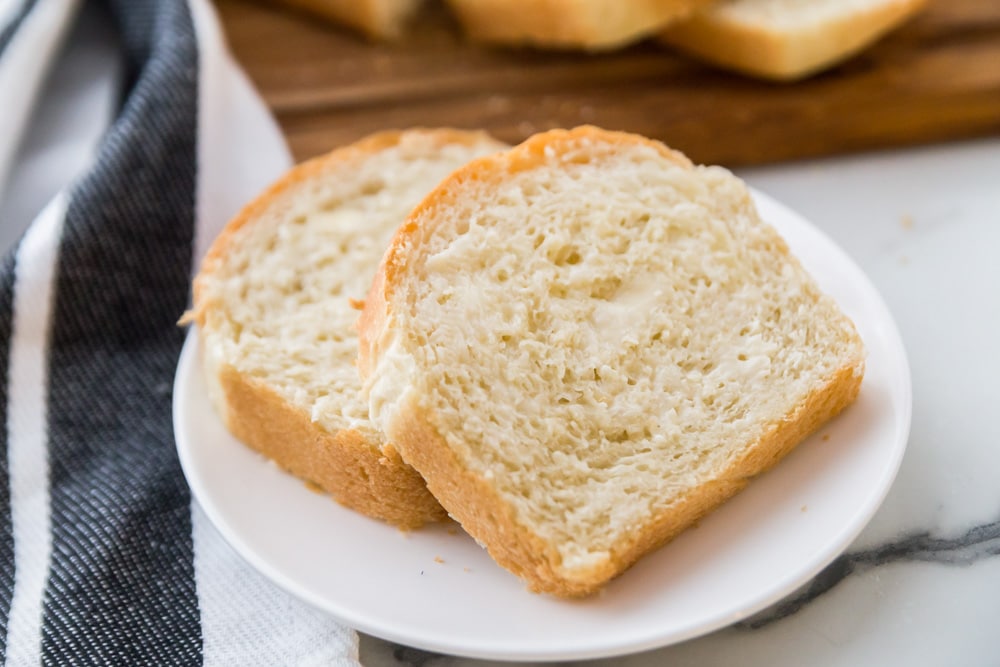 BREAD FAQ?
Can you use all-purpose flour? Yes! We prefer to use bread flour if we have it, but all-purpose works too.
How to make bread crumbs from homemade bread? Let the 1 loaf of bread dry out and become more firm. Then use a food processor to blend the crumbs evenly – do not over process. Melt 1/2 cup butter in a large pan and add the crumbs along with some salt and pepper – stir until evenly coated. Keep stirring until crumbs sound like sand. Let cool and store in Ziploc bags with zipper seals for up to 6 months!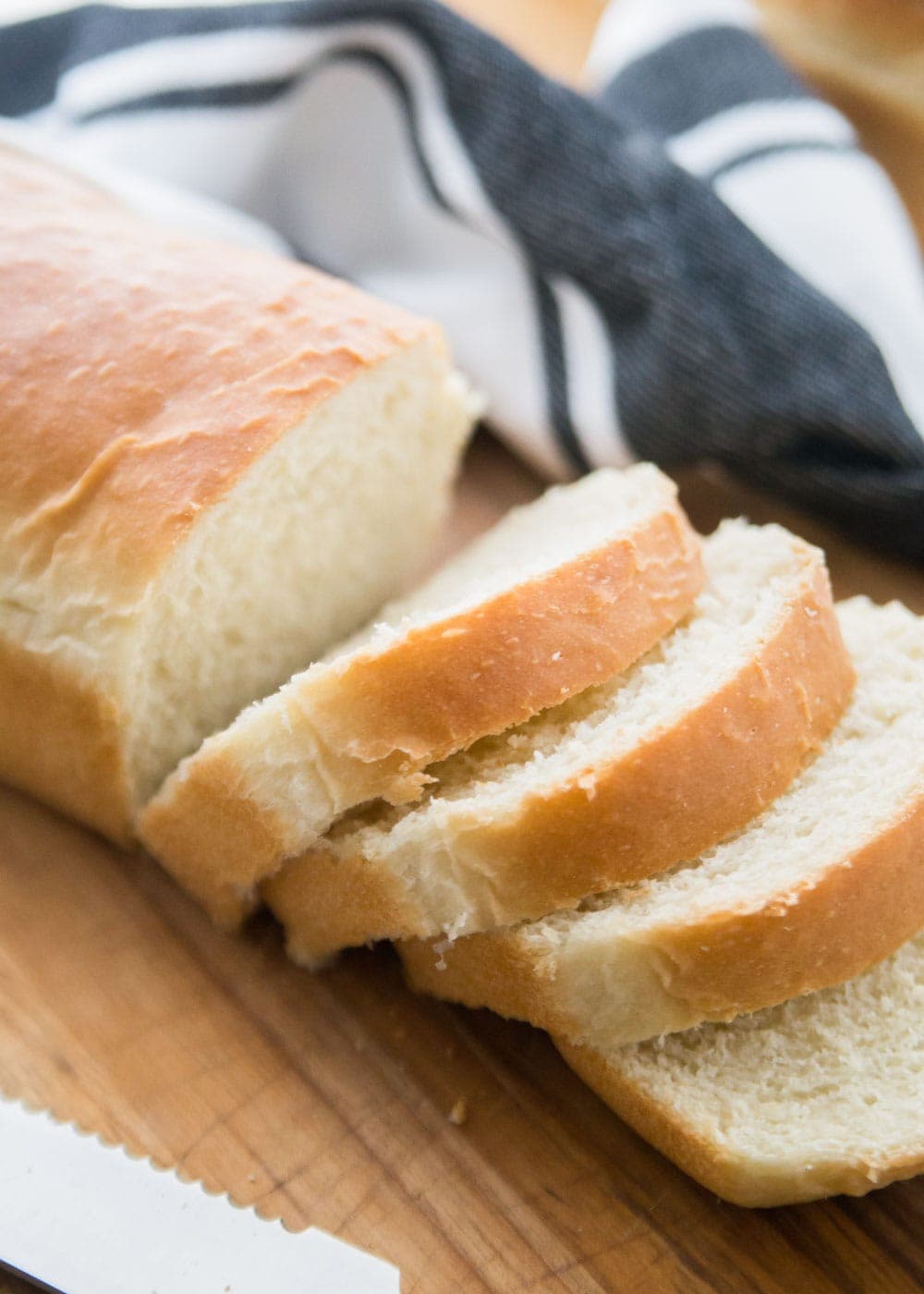 This white bread recipe is so soft, tender, and flavorful. It's everything that white bread should be! My favorite way to eat it is warm from the oven, smothered with fresh honey butter. Yum! Even if you're a bread novice, you should definitely give this easy recipe a try!
Please Click on the Next Page Arrow Button | > | Bellow For The Full Recipe and don't forget to SHARE with your Facebook friends. Enjoy!!!