It's getting to the point where it's slightly embarrassing how many banana and/or peanut butter cake recipes I have on this blog. At least they're all good, if I may say so – especially this peanut butter, banana and chocolate chip cake.
But I keep posting them because a certain person in our house (who isn't me) won't eat bananas as soon as they start to look remotely ripe. Horror of horrors, he even sometimes puts them in the bin before I can snatch them up and either make something with them or pop them in the freezer for later.
Determined not to let that happen this week, I set myself the task of making a type of banana cake that isn't already on the blog, and came up with these banana bars with peanut butter fudge frosting recipe.
This is great for this time of year, because it makes quite a lot of cake, serving around 20. It would be a perfect pot luck contender for that family gathering or holiday party with friends.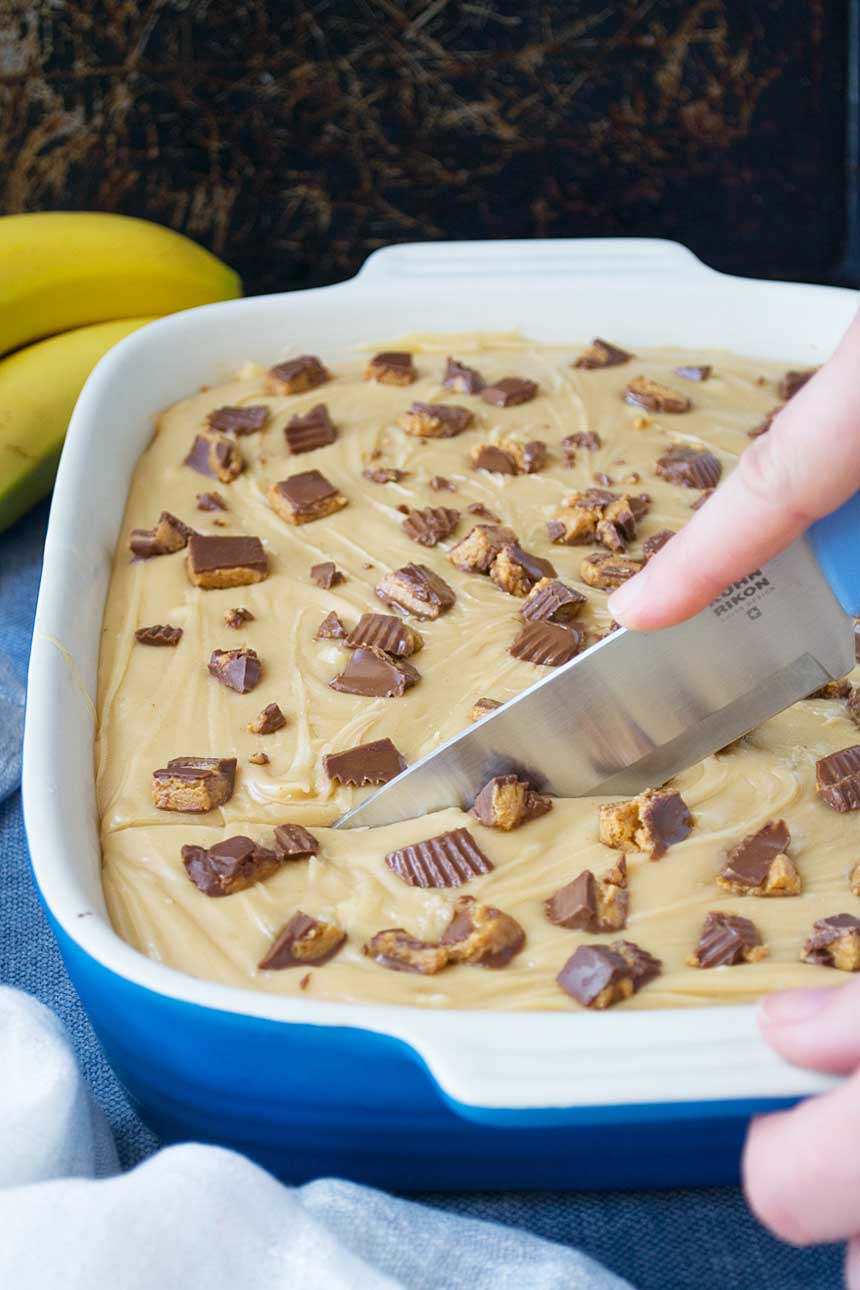 It's lovely and moist, like banana cakes should be, but still quite cake-y rather than banana bread-y, if that makes sense. Which is how I imagined it to be (result!).
I wanted to add a frosting. Surely you can't have banana bars without a frosting, after all? But I didn't want it to be a 'hard work frosting'. Many frosting recipes I come across look and sound amazing, but lots of creaming and fluffing's required to make them.
The peanut butter frosting recipe I went for has 5 ingredients in it – just peanut butter, butter, milk, vanilla, and powdered sugar. But what makes it so easy is the fact that you simply melt the first 4 ingredients together in a saucepan, then stir in the powdered sugar.
No whipping or piping required. What you end up with is a fudge-y, buttery, peanut butter-y deliciousness to spread thickly over your sheet cake.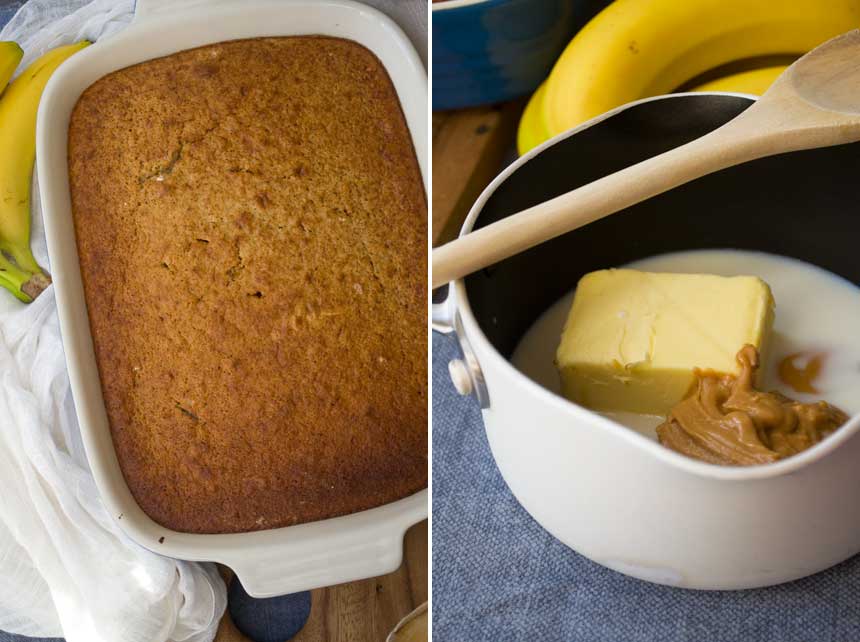 Sprinkle over some chopped up peanut butter cups, peanut butter M&Ms, or Reese's pieces for a bit of extra decadence if you like. You can skip this step if you like but, personally, I couldn't resist!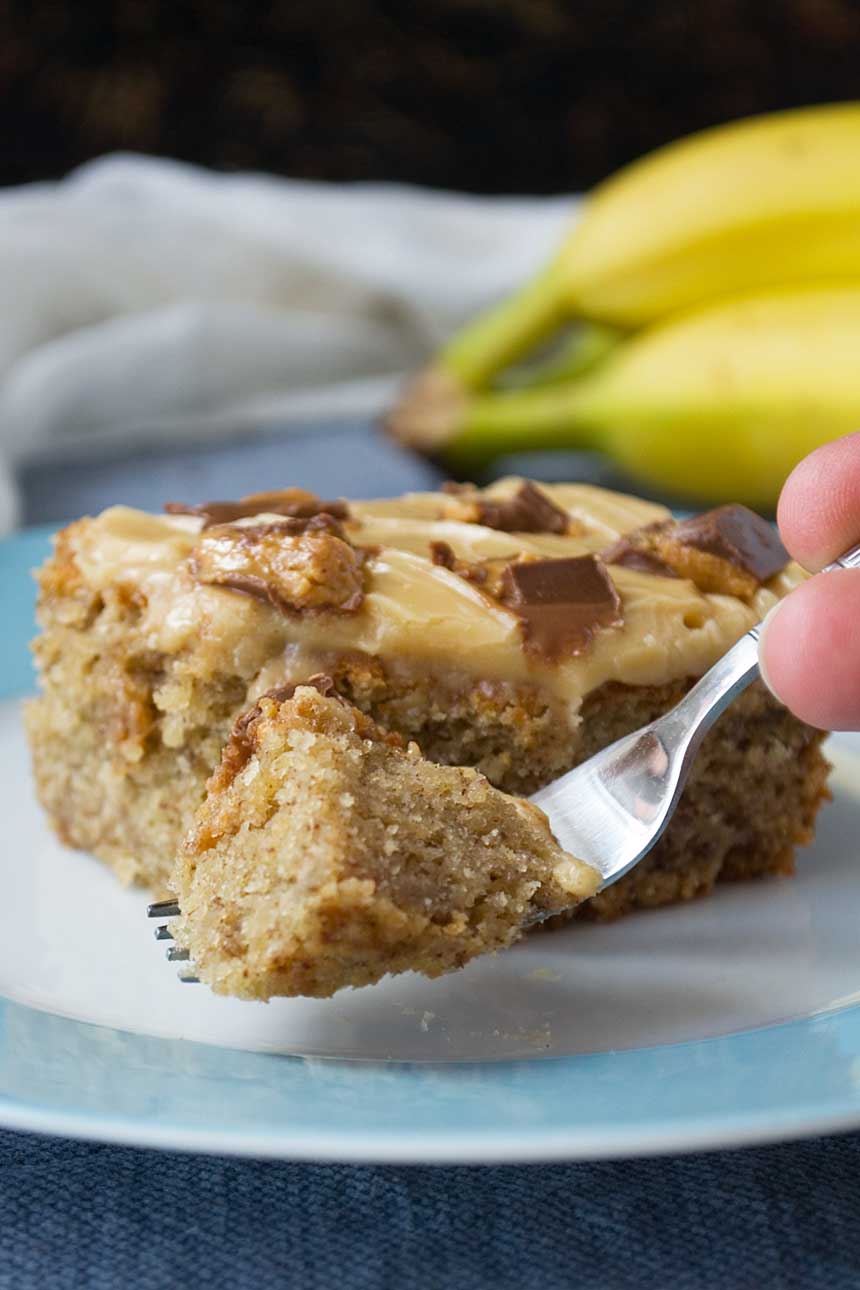 FULL RECIPE IN THE NEXT PAGE, ENJOY 🙂